Here are 11 of our reserve and youth players who have a chance to make a step up to the first team this summer. They are all very talented and many were out on loan last season.
In Wellington and Botelho's case, they have already been loaned out for the season and i expect many in the list to follow them in the some of the top European leagues.
Damian Martinez
- The young Argentinian has been very impressive for the under 18s last year, and for the Argentinian youth sides. His great shot stopping even led to a surprise call up to the national team squad this summer, after an emergency goalkeeping situation.
He surely has a bright future at Arsenal, but at only 19 years old we'll have to wait a few years till he's even though of for the first team.
Carl Jenkinson - The new signing had an impressive time in Malaysia and also came out top in the fitness tests at the beginning of pre-season. The versatile defender, is tall, strong, fast and comfortable in possession and, if he makes good progress in the next few weeks could lead to Eboue's departure, and a step up to second choice right back.
Ignasi Miquel - The Spaniard featured twice for the first team last campaign against Orient and barely put a foot wrong. The Catalan centre-back is tall but needs to bulk up if he wants to be ready for the physicality of the English game.
With Arsenal's common defensive problems he definitely has a chance to get into the first team, although he is looking very likely to leave on loan to a Premier league side - possibly as a makeweight for the Cahill deal.
Kyle Bartley - Kyle was very impressive in his loan spells at Rangers and Sheffield United. He looked like a player we've missed over the last few years; strong, brave, good in the air and hard in the tackle. He, like nearly all Arsenal youth graduates is very comfortable in possession and even featured in midfield during his Rangers loan.
His future at Arsenal next year is unclear right now, but recently he stated his desire to make a first team place his own. Personally i'd prefer him to Squillaci and maybe our other defender too, but with the possible arrival of another defender, and Rangers waiting patiently, the future Bolton defender may see his future elsewhere.
Pedro Botelho - The Brazilian had his best spell on loan last season at FC Cartagena and looked dangerous and exciting playing both left back and left midfield. After Clichy's exit, and Pedro finally being able to apply for a work permit, we may have expected to see him stake a claim for the left back position, but instead he has moved out on loan to Rayo Vallecano who are new to La Liga.
Henri Lansbury - Henri will always be remember by Arsenal fans for scoring at White Hart Lane as Arsenal smashed our closest rivals. However, he would prefer to be remembered for winning titles with the Gooners, and he may be able to help doing that this season.
Fresh from an impressive loan at Norwich, he could easily slot into the midfield place vacated by Denilson, and with Coquelin away with France u-20's he has a head start in pre-season.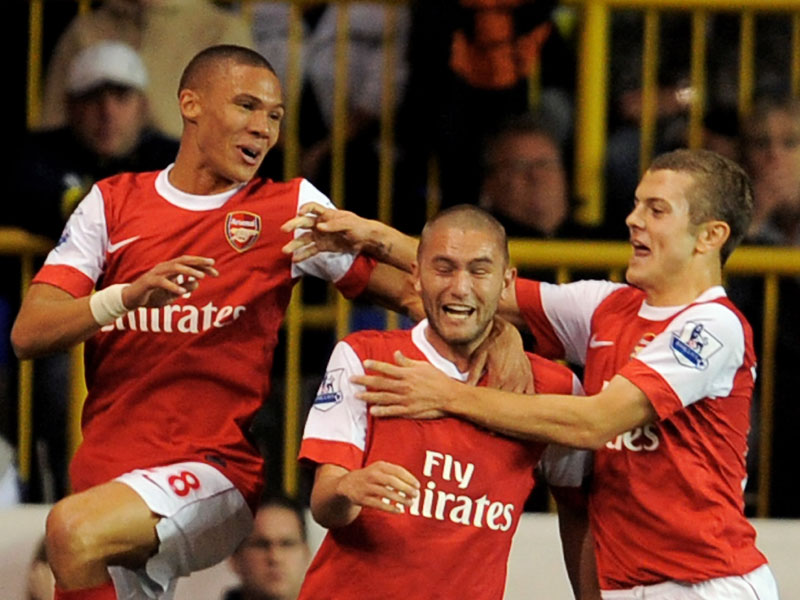 Henri, who is more than capable in central midfield and out wide on the right, has recently been subject to a bid from Norwich to join them permanently in the Premiership, but the bid was rejected. He may go on loan to a Premier league team similar to Wilshere a few years ago, but if things go his way he could be making a more telling contribution.
Emmanuel Frimpong - Frimpong probably has the best chance of a first team place next year. Song needs competition to continue improving, and with Wenger reluctant to open his chequebook for a new defensive midfielder, Denilson leaving on loan and Coquelin in international duty, the 19 year old has an excellent chance, especially if he has a pre-season similar to last years.
Whilst on tour in Asia he looked very hungry to retain possession and was strong in the tackle. His positioning was sometimes suspect, as was his passing, but he looks physically ready and defensively solid. He'll probably get another few chances against Cologne and in the Emirates cup to prove himself capable.
Conor Henderson - When he featured in our FA cup game against Orient at home, it was a big surprise. Unlike JET, Frimpong, Eastmond and the other young British players in our reserves, Conor was not well-known among fans.
However, the young Irishman has an excellent passing range and could be seen as a dead ball specialist. He is also very highly rated by the boss, who after the Orient game said his future lies with the first team. That may be hard to achieve though, as Arsenal have a massive range of ball playing midfielders, and Conor is set to turn 20 in September. Is he's good enough though, we'll soon see him in an Arsenal shirt.
Hopefully the injury he picked up against Cologne on Saturday won't disrupt his season as feared too.
Ryo Miyaichi - Fast, skillful, good crossing, great dribbling, amazing technique and only 18 years old. Plucked form Japanese high school Ryo looks set to be another gem Arsene and his scouting network have secured. In the Asian tour he was impressive and didn't look at all out place in the first team squad, the only shame is that he may have work permit issues so may have to go out on loan.
That may end up being a blessing in disguise though, as the first team football he got week in week out at Feyenoord last years led to him making a vast improvement and a similar loan could make him be excellently prepared for the first team.
Wellington Silva - Silva was extremely hyped up before his transfer to Arsenal from Fluminese. We thought he could be in the first team, even though we'd only seen minimal footage of him playing on youtube. He then went on to have a disastrous spell on loan at Levante, where he only made two substitute appearances, and his attitude was put down regularly by the Spanish press.
However, the exciting Brazilian hope to have turned a corner this season as he again went on loan to Levante, although this time with a different, more professional attitude. His new found attitude has landed him with 2 starts in 2 pre-season games and hopefully he can become a major player for the La Liga side this season. If he does progress dramatically, he could be very knocking on the doors of the first team very shortly- although work permit issues could disrupt this.
Gilles Sunu - Sunu is another who has dipped under the radar of many fans. If one of our other players scored a goal in the final of an international tournament, he'd be very close to the first team but Sunu went straight on loan to France in January. He played 9 times for Lorient in the French first division, and even though he failed to find the net, he made a good impression and may return there on loan next season.
Sunu has bags of pace, and can finish too as he has shown when he's got chances. He will get more chances to play if he returns on loan to Lorient, and game time will really help him improve his game. He still has a while until we will know whether he can progress into the Arsenal first team, but he is making the necessary steps by playing regularly for French youth teams, and featuring occasionally in Ligue Un.
And 5 to watch out for in the next few years:
Ebecilio, Afobe, Bellerin, Aneke, Toral.
All 5 are very exciting young players. Ebecilio has shone for Holland at youth level this summer and Afobe even featured for the first team briefly against Cologne. His partner Aneke has been scoring freely for Arsenal reserves in their preseason, whilst the young Barcelona pair (Toral and Bellerin) seem to be settling in very nicely and
could be featuring for the reserves and under18 sides a lot next season.